9 Reasons Why West Country Games Has Become Bristol's Most Popular Group Activity
admin, December 7, 2021
4 min

read
1342
West Country Games has very quickly become Bristol's most popular group activity day. Their hilarious, wacky events welcome up to 400 people every Saturday and have stag, hen, birthday and corporate teams alike rolling around the hay with laughter!
The games feature nine themed activities, each celebrating the (in)famous West Country ways. Whether you're trying to outrun your best friend before your bungee gets twanged back, prodding your mother with a pitchfork or wrestling your colleague in a Vicky Pollard fat suit, you're definitely in for a highly amusing day out!
Also Read: Christmas Gifts Throughout The Years
Having just celebrated their tenth birthday in 2020, the Bristol-based events outfit move indoors for the autumn and winter season. And, like the cows on their farm, they'll be moving back outdoors just as soon as the sun starts shining again!
We've put together nine reasons why a day out at West Country Games should has become such a popular :
Laughing out loud on a hen or stag weekend
Take a look through the reviews and the one thing that comes up time and again is everyone saying how much they laughed throughout the day. It's certainly hard to keep a straight face when you're falling over The side-splitting games are sure to have anyone falling over with laughter on a Bristol hen weekend.
9 hilarious games
The 9 themed games feature a variety of large inflatables, fat suits, catapults and bungees. Each is designed for maximum fun and is sure to have your group in stitches. Your group will be allocated your very own Activity Host to lead you around the games and supervise the fun.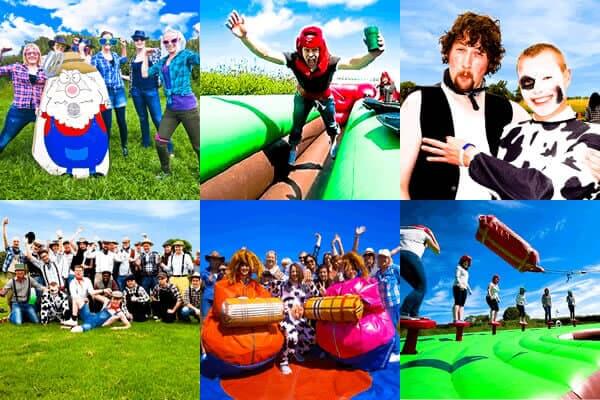 Bring your granny!
That's right. You can bring along your granny to this event! People of all ages have taken part before. The games are designed for maximum fun, whilst not being overly energetic so that people of all physical ability, age and size can take part.
Team bonding
There's no better ice-breaker in Bristol for stag and hen groups. Each inclusive game is designed to ensure that everybody can take part in a friendly but competitive way. The Mangold Dangling allows the stag, hen or birthday person to get their own back on the group, while the Farmer's Shower works the other way when the group can get their comeuppance!
Be competitive
Oh yes, points mean prizes at West Country Games. So for you competitive types, you can battle it out with your mates as the winner takes all!
The games take place on a farm!
Well you can't really get much more West Country than that can you? The lovely farm location also features a popular restaurant with indoor and outdoor seating, a farm shop and a paddock containing a very cute array of Shetland ponies, donkeys, geese, ducks and ostriches. It all provides the perfect backdrop for a day out in the West.
Also Read: 7 Easy Ways to Improve Child's Memory
Fancy dress
It's all about the fancy dress at West Country Games. The majority of groups make the effort to get dressed up for the occasion, just to add to the fun. And make sure you bring your West Country finest, since the best dressed team win a bottle of Processco!
Free photos of your day out
What goes on tour…ends up on Facebook! Your own Activity Host will snap away with their camera as you move around the games. The photos are made available by the end of the day for all to see.
A year-round activity
West Country Games now operates throughout the year. March-October events run outdoors at Gatcombe Farm, Long Ashton. But if you're stuck to do something fun in the winter, the events move to an indoor barn-themed sports hall at Merchant's Academy, Withywood between November and March.
So there you have it! 9 great reasons to book one of the South West's most popular activity days for groups. And if you ever find yourself in Wales, then sister activity Welsh Games are run by the same crazy team and a great option for a hilarious group activity, suitable for any Cardiff hen weekend.
Related posts