Must have upgrades for your office
admin, April 28, 2022
4 min

read
1637
As our workloads increase, our need to find ways to stay productive also rises. Burnout, work-related stress and tension are all common occurrences among workers and the environment we work in can contribute to these feelings, making it harder to meet the demands of our busy lives.
Upgrading your office to make it more conducive to working efficiently can help to make work a more enjoyable experience and less stressful, while also being better for your mental and physical health. Here are a few suggestions for upgrades you should invest in for your office.
Ergonomic chairs
Sitting uncomfortably all day long can put immense stress on your neck and back, and your work can also suffer as a result. Obtaining an ergonomic chair can help to support your back and encourage you to sit up straighter so you're not putting as much pressure on your neck and joints. A comfortable chair that's designed for work should be adjustable too so you can set it to the right position for your body and height.
Adjustable desks
Your desk plays a huge role in your productivity and comfort at work, so if you're upgrading your office equipment, it should be a priority. A desk that's too small can make a work environment cluttered, while too large can feel difficult to manage. Ideally, you want a desk that's the right size but that can also be adjusted to different heights so you can work seated or stand up to get your body moving throughout the day.
Also Read: Make Your Kitchen Come Alive With Latest Range of Kitchen Cabinets
Office screens
When you're working in a large open-plan office, finding space to work quietly can be challenging. Implementing office pods can resolve this issue, creating zones and hubs throughout the office where people can work independently or as a team without bothering their colleagues with noise. What's more, pods can be moved to create new layouts as the demands of your team change or as the number of people working in the office grows.
Monitor stands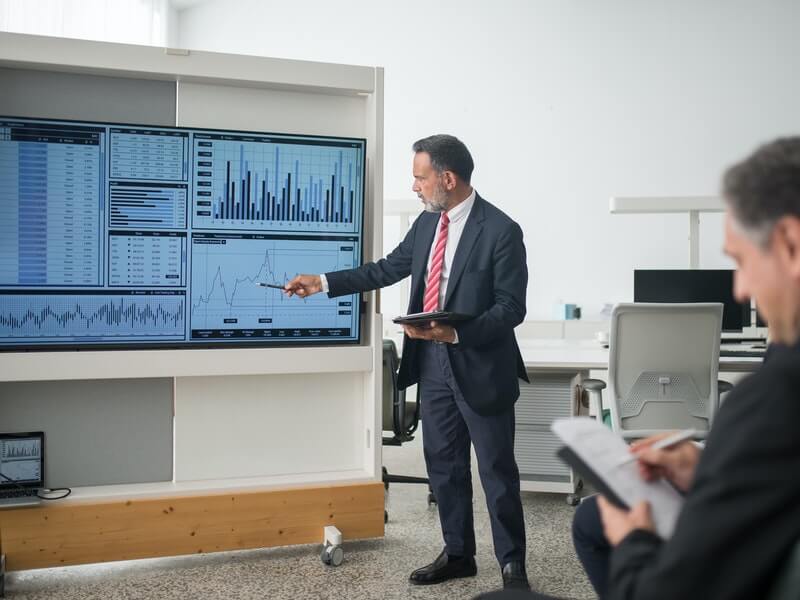 One of the reasons that so many of us feel like we're constantly hunched over our computers at work is that we're actually working from a monitor that's positioned too low. This can cause headaches, eye strain and puts immense pressure on the base of the neck and back. A monitor stand is a simple and affordable solution that raises your screen up to eye level so you can sit up straight and work more effectively without putting strain on your body. If you work from a laptop, you can still use a monitor stand simply by using a USB keyboard and raising up the laptop to your eye height.
Storage
An office should have ample storage to prevent papers and equipment piling up on desks or creating clutter around the property. It's an upgrade that you might overlook when redesigning your office, but it's something that can make a huge difference to how an office looks and feels, and how practical it is to navigate. Whether you choose fitted shelves or cabinets, or movable storage that can be reconfigured easily, having storage in place will increase productivity, save time finding items and documents, and make the office a more comfortable place to work.
Lighting
Lighting is vital to any workplace and without sufficient light, you can strain your eyes trying to see. Low light can also make you and your colleagues drowsy which can impact productivity and motivation. While natural light is the ideal choice, it's not always possible if your office doesn't have many large windows or skylights, but there are ways to mimic the effects with bright lighting on the ceilings and walls that will illuminate the space and increase engagement from everyone at work.
Also Read: Home Maintenance Tips for Beachfront Property Buyers
Final thoughts
We spend a large amount of our time at work, so it's important that our surroundings are designed to encourage productivity and increase comfort. A well-designed office not only makes working easier but it can also improve our mental and physical wellbeing. From lighting and seating to making sure you're limiting the pressure you put on your neck and back, and providing spaces for collaborative and quiet work, these are just a few suggestions of how you can create a functional and comfortable place to work for you and your team.
Related posts