The elderly often suffer in terms of mobility, but can have a whole new life when a new and modern stair lift is installed in their home.
Chair lifts for stairs are a relatively new and very exciting option for elderly and disabled persons, helping them to live a more normal life and rely on themselves rather than on other people. From homes and retirement homes to other living centers, regardless of where the elderly person is living, a stair lift can make a huge difference in their day to day life and is certainly something that is at least worth considering more and looking into more.
Better Mobility
The benefits of chair lifts for stairs for the elderly cannot be denied. One of the greatest benefits offered by stair lifts to the elderly is better mobility. Seniors are old and fragile and can often find it difficult to get around. A stair lift makes it easier by providing ready access to the upper floors of a home. For the elderly and particularly those who injured or disabled, this makes a seemingly impossible task quick and easy.
Recommended Reading: 5 Ways To Make Your Home More Wheelchair Accessible
Feel Safe and Secure
A stair lift also ensures the safety of an elderly person. Instead of having to risk a fall or injury by going up the stairs on their own, an elderly person can feel safe and secure knowing they can make it up the stairs without hurting themselves. In fact, falls contribute to more deaths and injuries for the elderly more than any other cause, which gives all the more reason for elderly persons to have a stair lift installed in their home.
More Independent
A stair lift also allows an elderly person to be more independent, which not only reduces their overall care-giving needs, but makes them feel more confident and secure. There are enough things an elderly person has to deal with, and it can make them feel very sad and useless when they feel as though they cannot even look after themselves. This enhanced independence gives them their youth back in a way, and makes them feel as though they can take care of themselves like they once could.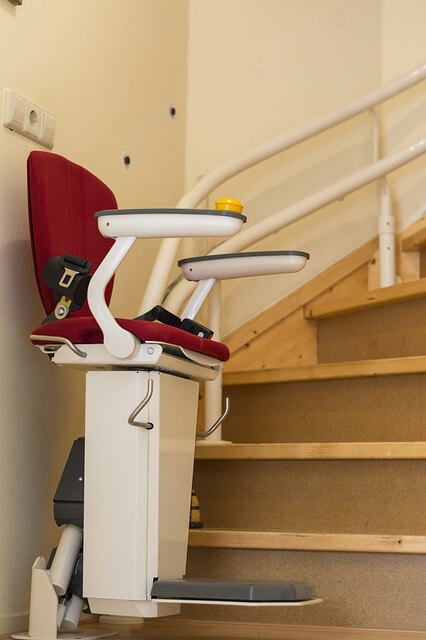 Easy To Install
The stair lifts are actually surprisingly easy to install. It is best to have a professional company do the installation work however, to ensure everything gets set up properly and prevent injury. There are various different companies offering these stair lifts and which can also take care of the installation work for you. Take time to find an experienced, reliable company you can count on and who is going to get the work done for you and make sure the stair lift is installed right, from start to finish.
Recommended Reading: Going "out out" In A Wheelchair – The Realities and What More We Can Do
Whether you are an elderly person yourself or you have a loved one who is getting older in years and you want to help keep them safe, a stair lift can truly make all the difference in the world. It is well worth the investment of your time and effort to have a stair lift installed if necessary. With all the options available and the relative affordability of the average stair lift, it only makes sense.
Related posts