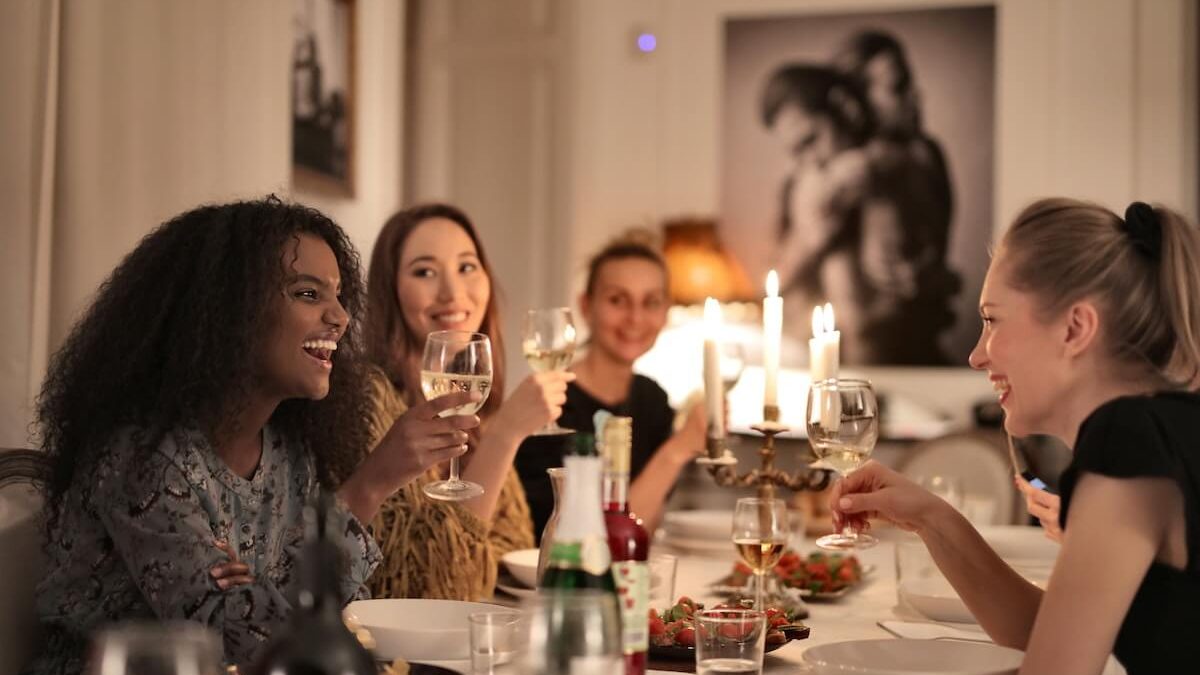 After being forced to stay within the comfort of our own homes, many of the public still choose to stay home rather than go out despite restrictions easing over the past year. Yet, if we owe anything to the last couple of years, our professional and personal life elements have become much more accessible.
From eliminating the daily commute with remote or hybrid working opportunities to ordering a pizza when hunger strikes using food delivery applications – many elements of everyday life have become attainable without needing to leave our homes. Grocery and dining have been subject to some of the most instrumental changes over the years, with mobile applications, like DoorDash and UberEats, seeing a significant increase in revenue capture.
However, despite the appeal of food delivery applications, they can be costly, which is why people have come up with ideas to make home dining more exciting, like al fresco dining. Al fresco dining is typically seen at restaurants where patrons are seated outside. Yet, there is no reason why this experience cannot be replicated in our backyards using outdoor cooking equipment. We outline more tips for creating the ultimate al fresco dining experience below.
Add Outdoor Dining Furniture

In most cases, the equipment you use for indoor dining differs from the equipment designed for outdoor use, not only in aesthetic but durability and many other elements. Due to this, it would be best if you create a distinction between your indoor and outdoor dining arrangements. This makes it easier to know which equipment is for which set-up and makes it more restaurant-like.
On the market, you'll find various accessories for al fresco dining, from smash-resistant plates, plastic champagne flutes, weighted napkin holders, reusable utensils, and much more. You might want to consider experimenting with different colors, patterns, or finishes. Whether you opt for a green-hued crockery set or brightly colored serving dishes that resemble the flowers in your garden – there are hundreds of options for all tastes.
However, it is best to opt for hard-wearing accessories with an excellent finish, as it is practicality that is best for al fresco dining, not aesthetics! For instance, you don't want to buy a beautiful crockery set that is a nightmare to get food remnants off as you'll grow to loathe the times you need to use it. Instead, you'll want to buy a set with a ceramic glaze that can be cleaned easily.
Create An Outdoor Kitchen

It's all very well dining al fresco, but have you ever tried cooking al fresco? If the answer is no, you should consider adding an outdoor kitchen to your dining area. You'll need to figure out plumbing and location-based technicalities, but once these are out of the way, you can make it as basic or advanced as you'd like.
Whether you'd like it to be an al fresco version of your everyday kitchen, by adding weatherproof countertops, utensil racks, worktops, storage solutions, and much more. Or whether you make it as simple as you'd like and have a work surface, sink, and a piece of equipment to cook with. Which brings you to your next decision, what will you use for cooking?
You could go down the traditional route and opt for a brand-new barbeque, or you could break tradition and opt for an outdoor pizza oven instead. Not only is pizza an all-around favorite for everyone but outdoor pizza ovens, like the Ooni Koda 16, offers users much more flexibility than that. Using the Ooni Koda 16, you can surprise your guests with meat joints, loaves of bread, and much more, making it the perfect accessory for your al fresco kitchen. Specializing in outdoor pizza ovens, Ooni manufactures al fresco cooking equipment that will turn your dining experience into one your guests will never forget.
Provide Shelter For Your Guests (And Food!)
The only downside with dining al fresco is that the weather can be unpredictable at times, and let's face it, nobody wants to be tucking into their evening meal while droplets of rainfall around them. To prevent having a soggy dinner, it is essential that you provide shelter for your guests (and, more importantly, their food). Otherwise, your ultimate al fresco dining experience could quickly become the worst al fresco dining experience.
You can create shaded areas in your outdoor space, whether you need sheltering from the rain, sun, or frost. Some of the most popular ways to make shady areas are by using parasols, screenings, and sails, which can be purchased from online marketplaces like Amazon, eBay, or Facebook marketplace or in-person at a local garden store.
On the other hand, if you'd like a more permanent solution, consider installing an awning or a pergola which will be more aesthetically pleasing than some of the solutions mentioned above yet practical. Not only will it keep your hard work from going to waste, but it means that you can host no matter what the weather brings since you'll be protected regardless.
Keep Your Beverages Cool
It's not only you and your guests whom you'll have to worry about keeping cool when al fresco dining but your beverages as well. Nothing quite spoils a meal than taking a swig of bubbly only to find that it is lukewarm, which could have been prevented if the drinks were kept cool in the first place.
Fortunately, there are many accessories you can include in your al fresco dining experience to keep your drinks cool throughout your meal. From insulated covers that you can slip over cans of alcohol or soft drinks to specialist coolers that can keep bottles cool for over nine hours – there are loads of options depending on the type of dining experience you wish to create.
If you're treating your loved ones to a glass of wine during your al fresco dining experience, using the correct wine accessories alongside these cooling methods is another way of keeping your beverage fresher for longer. So long as you have excellent food and drink, you're sure to surprise your guests with the ultimate al fresco dining experience.
Use Technology

We use technology for everything today, so why not use it to your advantage while trying to create a restaurant-worthy al fresco dining experience? Now we're not suggesting that you pull out your phone at the dinner table. A much more acceptable way of using technology while hosting is for playing music – so consider elevating your al fresco experience by investing in a speaker.
Also Read: A Quick Guide To Indonesian Coffee And Which Beans To Try
You can't rely on conversation to fill every moment of silence, which is where music can come in handy. Has someone cracked a joke that wasn't funny but plain awkward? Are you too busy sampling the delights of your new outdoor pizza oven that you can't make conversation? Just stick on a playlist and say no more (literally!).
Not only can it help you avoid awkward conversation gaps, but music can also help set the tone of the evening, make people feel more relaxed, act as a conversation starter, and much more. Plus, we're sure your guests will enjoy sharing some of their favorite tracks with you, making for an even more memorable al fresco dining experience.
Related posts