How to Get Into Hiking in 2023
admin, August 14, 2023
4 min

read
1793
A new year means new ambitions, as many of us look to introduce something different to our lives. For a lot of people, having a more active lifestyle will be high on their list for priorities as we start a new decade of our lives!
Motivating ourselves to start improving our overall fitness, however, can be daunting, especially if we didn't do much exercise beforehand. If you're not inspired to go from couch to 5K and instead just want a bit more of the outdoors in your routine, then trekking could be perfect for you!
Also Read: 5 of the Top Activities to Try This Winter
Hiking has grown in popularity over the last few years as an easy way to stay fit, be outdoors and enjoy the wonders of the natural world. If you're interested in starting a hiking adventure this year, this guide will help you make a positive start, so you'll be motivated to integrate it into your lifestyle!
Discover Adventures Near You
Some people say that the planning is the most fun part! While there's nothing quite like experiencing adventure first-hand, discovering what trails are available in your area can be a good start when it comes to your passion for hiking.
One of the great things about trekking as a hobby is that it's so simple. All you need is a long, natural path, preferably with a view, and the adventure is yours whenever you want to go. You might be surprised at how many exciting walking routes there are in your area, taking you to wonderful natural regions that you maybe didn't even know existed!
Once you've found that stunning hiking trail that's within easy reach, you'll be more excited than ever to start your trekking journey.
Also Read: 10 Fun Adventure Sports to Try This Summer
Know Your Fitness Levels
Like with any new hobby, that first experience could make or break your love for hiking before it has begun. To ensure that hiking is something you will want to stick with long term, you need to find the right balance between a journey that tests but doesn't break you.
The perfect first hiking journey will be something that brings you out of your comfort zone. Without making yourself so uncomfortable that the experience is no longer enjoyable. Finding this perfect journey will rely on a lot of factors, including location, time, weather, and so on. However, the most significant factor here is often our physical capabilities.
Take your fitness into account and be realistic about what kind of trail you'll be able to complete. Don't attempt that dream mountain hike on your first attempt! Instead, find an enjoyable local route that can spark your imagination.
Buy the Right Gear
Similar to the point above, when starting a new hobby, your gear must support your development. Lots of people will have experiences of trying to learn a new instrument as a beginner and being demotivated when your bargain instrument doesn't cut it. The same can be said when it comes to hiking.
Buying the right equipment for hiking will make those first few adventures notably more enjoyable. Motivating you to continue hiking long into the future. Make sure you have comfortable outdoor clothes, lightweight hiking boots that support your walking and a backpack that is comfortable for long periods of time.
Purchase equipment that you know you'll be able to rely on for multiple hikes. Supporting your journey from hiking novice to an enthusiast!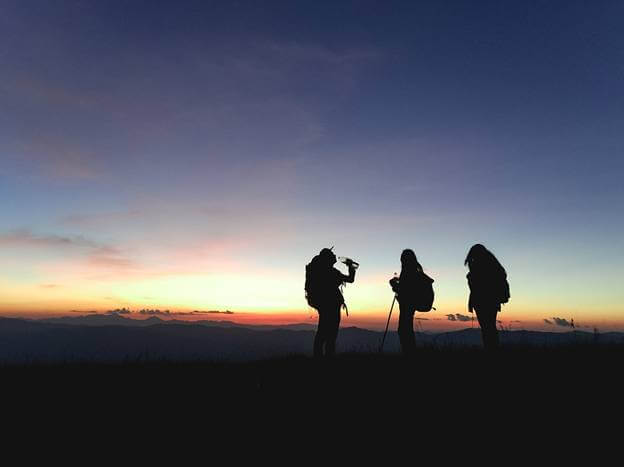 Get Others Involved
By far, one of the easiest ways to stay motivated is to share your passion and ambition with friends and family. Hopefully, at least one of them will be inspired by your determination and ask to join you on your journey! Set up a group of trekking novices and learn together the wonders of the natural world!
Even if nobody in your friendship circle has the time or energy to join you on your hiking adventure. The simple act of sharing your ambition helps to cement it in your mind. By declaring your intention publicly, your own motivation will increase further, helping you to begin your new outdoor lifestyle.
Hiking is a fantastic way to bring more exercise and outdoor time into our often hectic lives. Hopefully, this article will help you to get into hiking this year!
Related posts