Walk the Talk: Must-Have Women's Footwear for Every Season
admin, October 9, 2023
5 min

read
325
When it comes to fashion, one of the most crucial elements is footwear. The right pair of shoes can elevate your look and make a lasting impression. But with so many options available, how do you choose the perfect footwear for every season? This comprehensive guide will walk you through the must-have women's footwear for each season, focusing on heels and thigh-high boots.
Spring: Embrace the Blooming Season
As winter fades away and nature blossoms, it's time to transition your wardrobe. In spring, you want shoes that are not only stylish but also comfortable for long strolls in the park. Here are some options that fit the bill:
Ankle Strap Heels:

Spring is all about freshness and renewal, and ankle strap heels capture this spirit perfectly. They offer elegance and support, making them an excellent choice for garden parties and outdoor events.

Thigh-High Boots:

While thigh-high boots may seem more appropriate for colder months, they can be a versatile addition to your spring wardrobe. Pair them with a flowy skirt or a floral dress for a chic, boho look…
Summer: Stay Cool and Stylish
Summer is all about the sun, fun, and staying calm. Your footwear should reflect this carefree vibe while keeping your feet comfortable. Here are some summer essentials:
Wedge Sandals:

Wedge sandals are a summer classic. They provide height without compromising comfort, making them perfect for outdoor gatherings and beach trips.

Strappy Heels:

Strappy heels are stylish and allow your feet to breathe. They complement summer dresses and shorts effortlessly.
Fall: Embrace the Changing Leaves
It's time to add warmth and texture to your wardrobe as temperatures drop. Fall is a season of rich colours and cozy fashion, and your shoes should follow suit:
Block Heel Booties:

Block heel booties are a fall staple. They're comfortable for all-day wear and pair beautifully with jeans, leggings, or a cute sweater dress.

Over-the-Knee Boots:

The transition from thigh-high boots to over-the-knee boots for a more autumnal look. They can be paired with skinny jeans or a midi skirt for a stylish ensemble.
Also Read: Fashion Staples To Add To Your Closet In 2023
Winter: Brave the Chill in Style
Winter calls for shoes that keep you warm and protect you from the cold, wet weather. Here are your go-to winter footwear options:
Stiletto-Heeled Boots:

Stiletto-heeled boots add a touch of glamour to winter outfits. Opt for waterproof materials to dry your feet in the snow or rain.

Faux Fur-Lined Thigh-High Boots:

Thigh-high boots with faux fur lining are a game-changer when it's freezing outside. They're both fashionable and functional, keeping you warm while making a bold statement.
Year-Round Favorites: Heels and Thigh-High Boots
While each season has its footwear trends, heels and thigh-high boots remain versatile options that can be adapted for every occasion. Let's take a closer look at why they are the best fit year-round: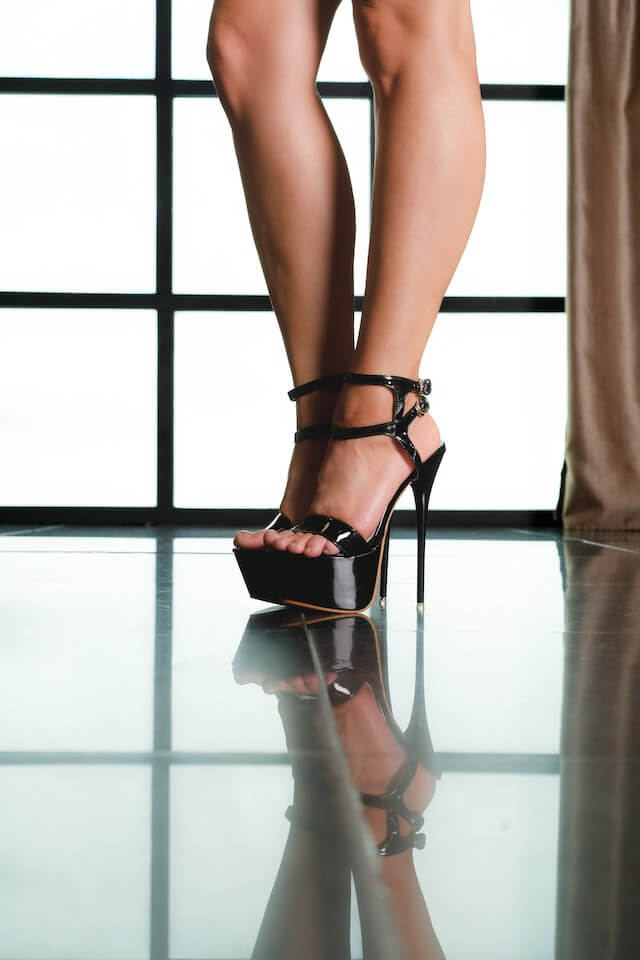 Heels: Elevating Your Style
Heels have always been a symbol of sophistication and confidence. Whether rocking a power suit or a little black dress, heels can instantly elevate your style. Here's why they are a must-have in your shoe collection:
Height and Posture:

Heels boost your size instantly, making you feel more confident and commanding attention.

Versatility:

From classic pumps to platform heels, there's a wide range of heel styles to choose from, suitable for various outfits and occasions.

Leg Lengthening:

Heels can create the illusion of longer legs, making you appear taller and leaner.

Accentuating Outfits:

They add a touch of elegance and femininity to any outfit, turning a simple look into a chic ensemble.
Thigh-High Boots: A Bold Fashion Statement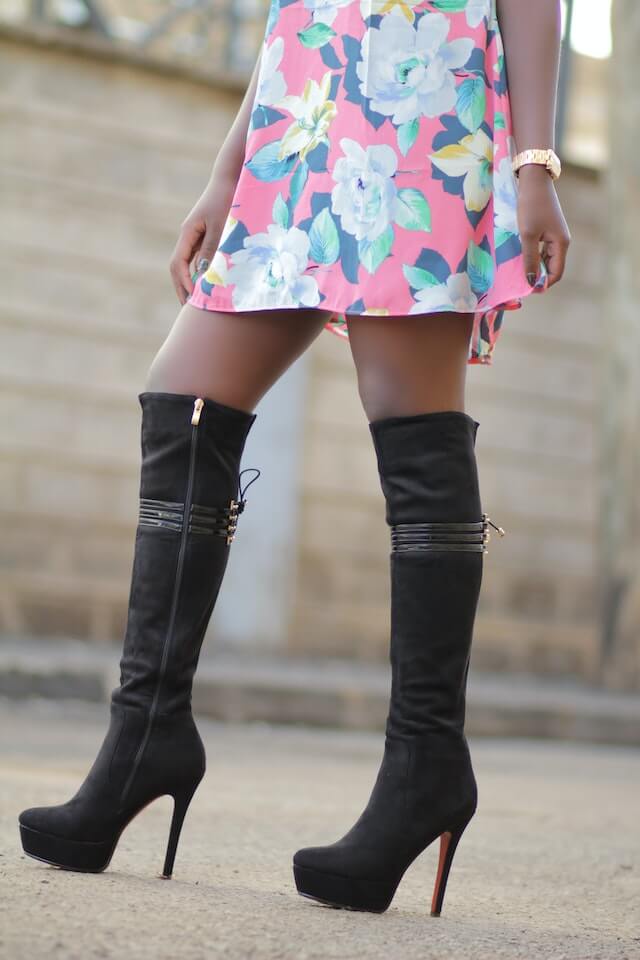 Thigh-high boots are a statement piece that can transform your entire look. Whether you want to channel your inner fashionista or stay warm in style, here's why thigh-high boots are a must:
Endless Styling Options:

Thigh-high boots can be dressed up or down, making them suitable for casual and formal occasions.

Warmth and Comfort:

In colder seasons, these boots provide extra warmth and protection against the elements while looking incredibly fashionable.

Instant Confidence:

There's something undeniably empowering about wearing thigh-high boots. They exude confidence and a sense of adventure.

Leg Coverage:

Thigh-high boots offer more leg coverage than traditional boots, making them ideal for colder climates.
Choosing the Right Pair: Tips and Considerations
While heels and thigh-high boots are versatile and stylish, finding the right pair can be daunting. Here are some tips to help you choose the perfect team for any season:
Comfort is Key:

Always prioritize comfort. Make sure the shoes fit well, provide adequate support, and are suitable for the activity you have in mind.

Material Matters:

Consider the material of the footwear. For summer, opt for breathable fabrics like leather or suede. In winter, look for insulated or waterproof options.

Heel Height:

Choose heel heights that you can comfortably walk in. For all-day wear, consider lower heels or wedges.

Versatility:

Select styles that can be easily paired with multiple outfits. Neutral colours like black, brown, or nude are versatile choices.

Weather-Appropriate:

Ensure that your footwear suits the weather conditions you'll encounter. Waterproofing and insulation may be necessary in certain seasons.

Personal Style:

Choose shoes that align with your style and make you feel confident. Fashion is about expressing yourself.
In conclusion, women's footwear choices can significantly impact your style and comfort throughout the year. Heels and thigh-high boots are two timeless options that offer versatility and fashion-forward choices for every season. By selecting the right pair for each season and occasion, you can step out confidently, making a fashion statement that genuinely walks the talk.
Related posts