Why Are So Many Car Injuries Nothing To Do With Driving?
admin, May 20, 2023
5 min

read
1275
We only tend to think about injuries and strains in cars associated with those you'd get from whiplash after a shunt, or even something more serious.
But in actual fact, there are so many more injuries caused by simply getting in and out of the car, albeit often not as serious, but none the less very irritating.
The action of lowering body weight into a car seat, or the motion of twisting for passenger or driver can cause tension in the lower back muscles, or even in the knees and ankles, particularly in the morning when muscles are not fully warmed up and ready to work.
So are these minor injuries, strains or at the very best minor discomfort something we should just put up with, or is there something that can help to make driving both more pleasurable and less painful?
Also Read: Different Car Related Careers You Should Consider!
For many years now, mobility manufacturers have been giving vehicles their attention to bring to market products that can alleviate the risk of these injuries, whilst also making the vehicle as safe and intuitive to use, as normal household furniture.
Even car manufacturers themselves are constantly evolving passenger comfort, but it's still a long wat for suiting users who perhaps have underlying medical conditions, existing injuries, or are simply struggling due to their own mobility limitations, vs. the car they drive.
So what's out there to help make it all easier and bring back that driving enjoyment we love so much when venturing out on the open road?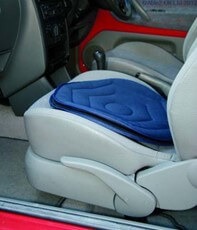 A soft transfer cushion here featured in blue, can really help those of you who find it difficult to swivel on the seat to leave the vehicle after driving.
This is just one of those situations in a car where the ligaments and muscles in the lumbar area of the spine can b under great strain and give painful response when trying to twist out of the car to enter or leave…
This cushion features a soft, padded, flexible turning disc ideal for use on car seats, chairs and beds – so great not only in the car, but also within the home itself.
The soft transfer cushion works by allowing the easy rotation of the user, when the surface of the cushion swivels on it's base, therefore allowing easier alighting or leaving of the vehicle.
It is a soft feeling cushion that can remain in place for the whole of the journey, providing a comfortable sitting position throughout.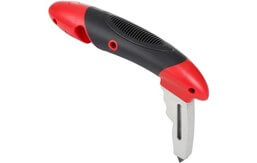 The car support handle, is an innovative and compact device has been readily adopted for use by thousands of people as it give that little bit of additional balance and support when entering or leaving the seating position in the car.
Very simple and quick to fit, when in place the car support handle is an extremely simple yet strong and reliable mobility aid that has been specially designed to aid users when rising from a vehicle.
Rising from a seated position on a vehicle, or lowering down to the seat, can be difficult as it's not always possible to keep the weight in the heels and bend the knees to allow smooth transfer.
the Car Support Handle fits easily into the door bracket on the car's door frame, where it will then remain for as long as it is needed as an excellent supporting handle that protrudes at an ideal height to assist the user in sitting or standing.
To ensure user comfort it boasts a soft, comfortable, slip-resistant handle. The Car Support Handle can also double up as an emergency tool with built in seat belt cutter and hammer feature to break glass in the case of emergency.
All in all, a great idea and low cost investment for your future driving safety comfort and enjoyment.
For many people, just the turning of a stiff steering wheel can cause general discomfort, or even lead to upper arm or back injuries, if you have a disability or are recovering from injury, or you just have a weakness for rotating against heavy resistance then help could be needed.
That help comes in the form of The Ezee Turn Steering Knob has an attractive design and includes ball bearings for smooth operation.
This steering aid facilitates easy parking and increase manoeuvrability. The steering knob is compatible with most steering wheels and is easily fixed into place in a matter of a few seconds to make your driving and parking easier.
The 5 Function Massage Cushion with Heat featured here, is ideal for providing back and shoulder relief and is equally at home in the car, or placed upon any seat, or the bed, in the home setting.
This unique and innovative massage chair delivers a high quality relaxing massage function to stimulate and relieve major muscle groups, including the lumbar region of the spine (lower back) the spine, neck and shoulders.
The attractive heated seat cover has been designed with five massage motors, with 3 speeds of intensity to relieve aches and pains in the upper and lower back, hips and thighs.
It's a versatile device, sitting on top of an existing car seat, thanks to the car adapter which is very easy to use to power the cushion.
To see a wide range of other products, aside from these featured, take a look at our car and travel aids section where you'll find a wide range of great ideas, all at very low price points.
So although many minor strains, aches and minor injuries are nothing to do with an accident on the road, it's good t know about some of the very innovative solutions available and how they can assist to make driving pleasurable for you again.
Phil Ashforth is a staff writer for Mobility Smart, an online retailer of health, wellbeing and mobility equipment to help you recover from injury, recuperation and protection of joints and muscles when exercising or just helping you in normal daily life, you'll find their website here
Related posts