Children's Bath Time is Better with Vinyl Flooring
admin, February 20, 2021
3 min

read
629
Do you find yourself constantly dreading your child's bath time, or even when they just hop in the shower? We often find our spaces of leisure disrupted by damp flooring and mould when we come to use them.
Think about the amount of water which ends up on your floor after a water fight during bath time or an extra hot shower which leaves your bathroom steamy for hours. Unfortunately, all these little pleasures can cause havoc with our floors.
Luvanto luxury vinyl flooring is now advocated by families and interior designers across the UK. Luvanto vinyl flooring has the capability to extinguish the damage mould does to your bathroom and give it a renewed freshness when it comes to style, that your family and guests will be astounded by.
Now a days, modern family life is time-dependent and having a flooring which can stick around is vital. Authentic flooring materials and laminate just are not going to be able to handle bath time the way Luvanto can, here's why…
Ready and Waiting
If you choose a full refurb for your bathroom, you will enjoy being able to fit each custom-cut plank or tile around your bathrooms existing features such as the bath, toilet, and sink. There is no need to remove everything just to get your flooring fitted properly, Luvanto has every corner covered. This also means you won't have to worry about damaging the planks and tiles during the installation process.
Also Read: 5 Common Mistakes While Wood Flooring Installation
Let's not forget Luvanto's waterproof properties which ensure neither you, nor your child slips when getting out of the bath or shower, even when the room is at its steamiest because of it's magical PU surface layer which maintains grip underfoot but keeps moisture out.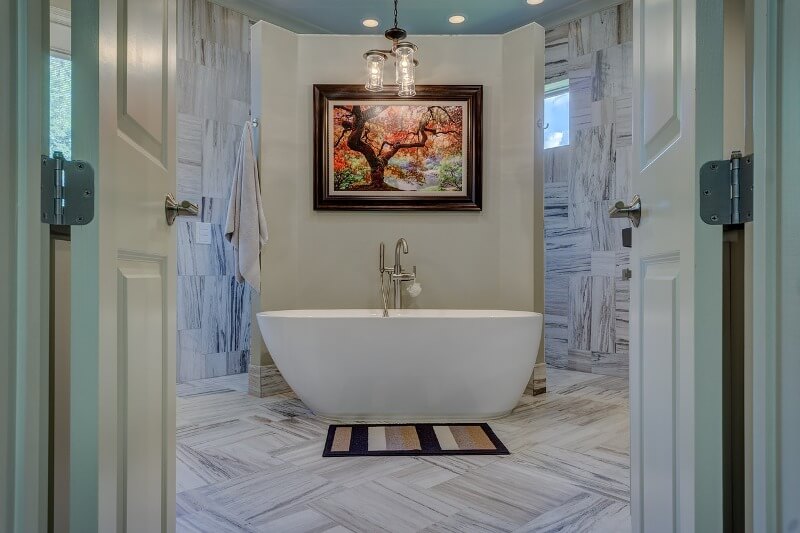 The magic of Luvanto's resilience is that no matter what temperature your bathroom reaches. The planks and tiles will keep their original form and not warp in high extreme hot or cold temperatures.
Design
Luvanto luxury vinyl flooring, despite being highly functional and designed using the latest interior manufacturing technology, will never look dull. In fact, some say it looks better than the real thing because of the likeness in each ranges texture and colour shade choice.
Also Read: A Little Secret about The Ideal Bedroom Colour
Whether you're looking for wood, marble, slate or ceramic there's a design for every corner of with Luvanto. Another thing about Luvanto is that it works around your home. So, you won't have to scrap any underfloor heating or current designs in your home. Both functionally and aesthetically Luvanto does the work for you!
Luvanto luxury vinyl flooring has everything to offer, including simple click or glue-down installation methods, budget friendly pricing and many reasons to love not having to spend hours cleaning up after bath time with your little one – just open the window and the water hovering on your floor will evaporate (or you can mop), leaving your planks free from water damage and you with happy bath time memories to cherish.
Related posts