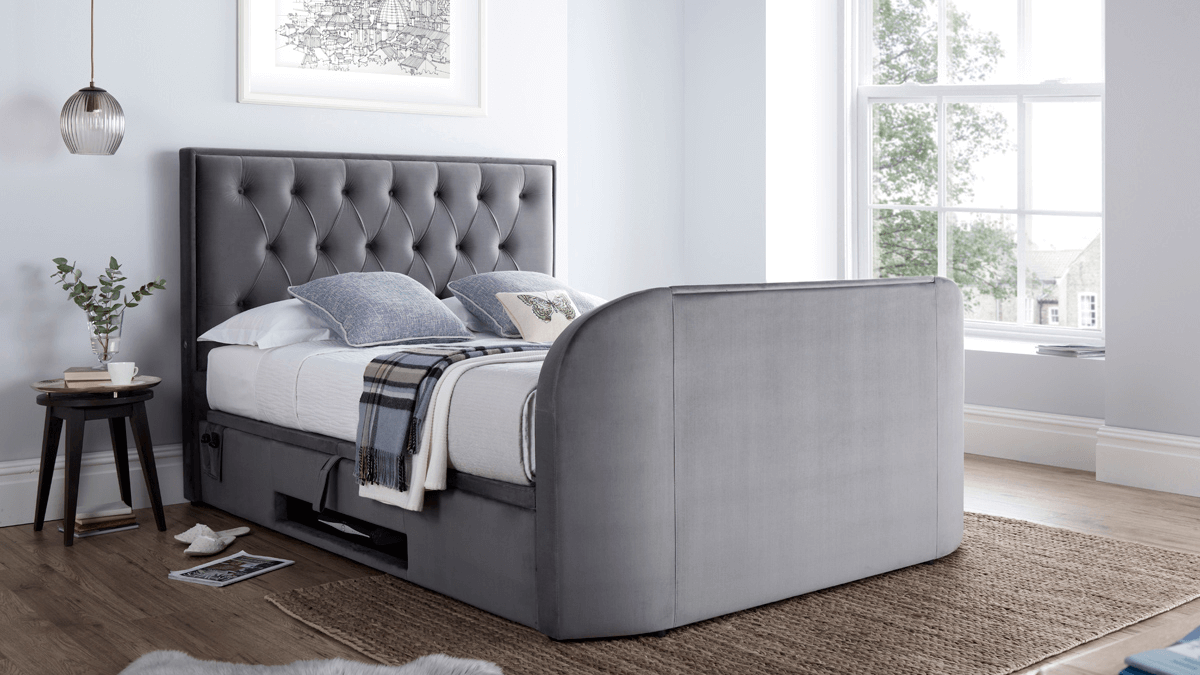 How do you maximise space with a king-size bed?
admin, June 21, 2022
3 min

read
1244
We know the feeling when only a king-size bed will do, but you have a small bedroom. The extra sleeping space a king provides versus a double is lush, but it eats into floor space, and small bedrooms can feel cramped.
King size beds measure 200cm x 150cm (length, width), making them 10cm longer and 15cm wider than double beds. Depending on your bedroom's dimensions and furniture, that extra size could work or not.
Also read: A Little Secret about The Ideal Bedroom Colour
This article explores several ways to maximise space with a king-size bed, helping you fit it in without compromising space elsewhere.
Let's jump in!
Get an ottoman bed for storage space
Your king-size bed will take up a lot of floor space, so it might as well provide plenty of storage. Ottoman beds are the best storage beds available, utilising the whole underside of the mattress as storage space.
Ottoman beds have a lift-up mattress base on gas lift struts – lifting the base reveals a vast storage area for anything you like. Best of all, you can specify an end lift or side lift ottoman to suit the layout of your bedroom.
Choose a low bed frame
Low bed frames sit low to the floor and move the eye line down, helping increase the perception of space and giving your bedroom a relaxed vibe. Contrarily, high beds take up more visual space and appear bulkier.
The Julian Bowen Shoreditch is a stylish velvet upholstered option, or the Time Living Meridian looks excellent if you prefer black metal. Our favourite low wooden frame is the Harmony Beds Amelia with its grey and natural frame.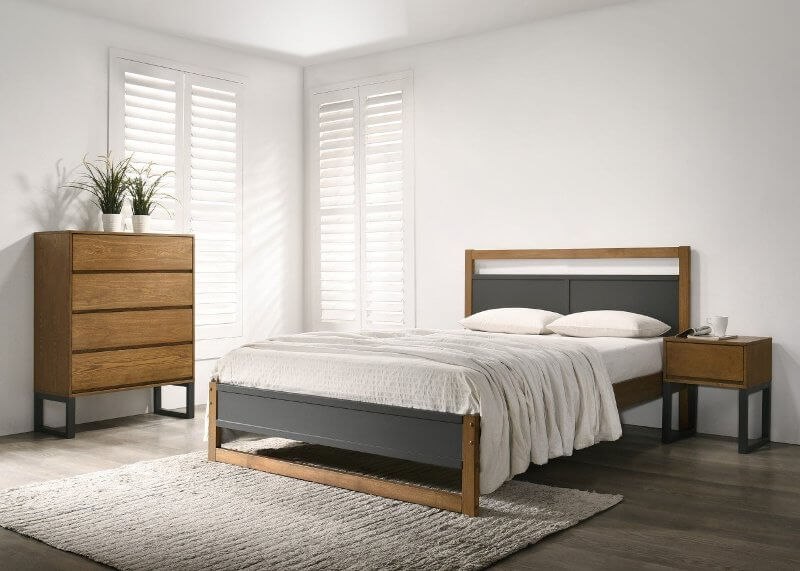 Watch out for bed dimensions
When you shop for beds, you will find them labelled 'king', but the reality is that this refers to the mattress size, not the bed size.
Most beds have different dimensions – some have thick headboards (making them longer), and some have chunky legs (making them wider). Measure dimensions to ensure you get a bed that maximises floor space—the shorter and narrower, the better.
Free up floor space with bedside shelves
You can increase visual space beside your bed and free up floor space with shelves. The shelves will sit where bedtables would, giving you space for your phone and a lamp without reducing space beside your bed for walking around.
Floating shelves are the most elegant option, and we recommend shelves with a lip to stop things from falling off the edge. If shelves aren't an option, get narrower bedside tables and ensure they sit at the same height or lower than your mattress.
Use less furniture
Using less furniture is the best way to maximise space with a king-size bed, and despite what you might think, it isn't easier said than done! Here are some tips:
Swap your chest of drawers for a wardrobe with built-in drawers
Swap your dressing table for a chest of drawers with a mirror
Swap your floor-standing mirror for a long wall mirror
Swap your work desk for a narrower console table
Swap your wardrobe for an open clothes rail
Move your television to the wall to free up space on flat surfaces
Keep colours light to make your bedroom airy
The biggest mistake you can make with a small bedroom is decorating in dark colours. You want your walls to reflect light and give positive vibes.
White is the best colour for walls, and keeping every wall white allows décor and artwork to shine. If you want to add colour, you can paint the wall behind your bed and make a feature wall that captures your personality.
Overall
King size beds are a worthwhile upgrade over doubles, but they take up 15cm more width and 10cm more length. Consider whether your bedroom is big enough, and if it is, use the tips in this article to make the space work for you.
Enjoy!
Related posts