Some Alluring Places to Inspire Your Wanderlust in Asia
admin, July 10, 2020
4 min

read
119
Traveling is a very crucial and adventurous part of life as it is the best way to get out of the busy schedule and experience life in different ways by exploring multiple cultures and varieties of local cuisines. Traveling for recreation not only improves your mood but enhances your physical fitness too. However, road tripping on a motorcycle while wearing motorcycle gears like vests and gloves can be many times more thrilling experience than traveling by air. When you plan about going on holiday, Asia might not be your first choice but it has all that you can wish to see from metropolis cities and the highest mountain peaks to beauteous islands. Asia, being the largest continent by both area and population, has most historical places, diverse multi-cultures, and some of the oldest civilizations lived on the face of the earth. Depending on the local prices, accessibility of the area, beautiful sceneries and tourist reviews, we have enlisted some of the hottest spots of Asia.
Taj Mahal, India: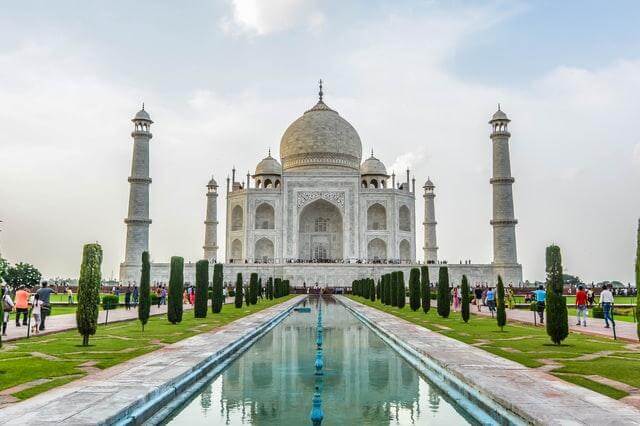 Taj Mahal was built from 1632 to 1648 by the order of Mughal Emperor Shah Jahan as a symbol of love for his favorite wife Mumtaz Begum. The white mausoleum is visited and admired by not only in India or Asia but in the whole world. It depicts the finest architectural sense of Mughal Kings. You can see a blend of Islamic, Persian, and Indian style in this masterpiece. It has lush green gardens giving the picture of heaven on earth. If you have not yet visited this jewel of the Muslim Community in India, be sure to visit it in the first chance.
Singapore:
Singapore got its independence from the Britishers in 1965 and has developed to one of the most advanced metropolis cities in the world very quickly. It has all you can wish to see from skyscrapers and beautiful museums to green parks and beaches. This island-state has a nature-themed Jewel Changi Airport which has no match in the world, it features not only the world's tallest indoor waterfall, but also an indoor suspension bridge 23 meters up in the air, four slides, and a butterfly garden.
Tiger's Nest Temple, Bhutan:
Bhutan is a landlocked country encircled by Himalaya(the highest mount range), Tibet, and some parts of India. It has many spellbinding sceneries of beautiful valleys, mountains, and swift rivers. Tiger's Nest, also known as Paro Taktsang and Taktsang Palphug, is the most sacred place set up over 3000 meters up the Paro Valley. It was first built in 1692 around a cave where Guru Padmasambhava is said to have meditated for Four Months in the 8th century and introduced Buddhism to the people of Bhutan. It should be on your list of must-visit places in Asia because of its location and history.
Great Wall of China, China:
The great wall of China is one of the largest building-construction ever undertaken, served as the defensive line for China. It was built in the Ming Dynasty(1368-1644) of 3945 miles. Although many of its parts are destroyed but still a lot of this ancient architecture remains on steep mountains. To see the Great Wall yourself, you best go to Qinhuangdao or Beijing.
Also Read: How Riding with Your Partner Helps with Relationship
Bali, Indonesia:
Bali a paradise of deep blue sea and ling beaches is one of the most visited places in Indonesia. Tourists all around the globe are attracted to this place during all seasons. Because, it offers the utmost luxury and comfort to its travelers in the lap of nature in every season. It should be included in your next vacation if you wish a blissful experience in nature.
Phuket, Thailand:
Phuket, Thailand's biggest island, with beautiful beaches, white sand, and stunning shores. There are many unique and compulsive festivals that you can enjoy here in this land from. The Ghost Festival during the 7th Chinese lunar month to The Vegetarian Festival during the 9th Chinese lunar month. This island for many years has become a magnet for visitors and every year thousands of tourists during the high season starting from November to February. In our recommendation, if a vacation for you means relaxing at the beach, then Phuket should be your first choice in Asia.
Related posts