The Reasons You Should Go On a Cruise in Alaska
admin, November 21, 2022
5 min

read
406
Alaska cruises have become one of the most attractive tourist destinations anywhere in the world. These cruises are ideal for honeymooners, nature enthusiasts, or just general vacation-goers who are looking for a relaxing trip.
What to Expect from an Alaska Cruise
There are various Alaska cruise holidays packages offered by various Alaska cruise companies. These cruise packages are always packed with breath-taking, beautiful, and interesting sceneries involving wildlife, glaciers, interesting ports of calls, entertainment, not mentioning the sumptuous meals that are served onboard.
Each cruise line operating within the region offers its own slew of Alaska cruise itineraries. These cruise lines have a variety of packages for the cruise traveller to choose from, offering each traveller the choice of their own unique tour experience.
Packages can vary by the number of days that a particular tour will last, the meals served, features that are available within the cruise vessel, and locations and tourist attractions that cruise travellers will visit.
Your days on the ship
In most cases Alaska cruises lasts for approximately seven days and during the course of the tour cruise, travellers are afforded the opportunity of experiencing interesting port towns such as Ketchikan, Juneau, and Skagway. Travelers also get a rare opportunity to witness natural attractions such as the college Fjord in Prince William Sound and the Glacier Bay National Park.
In addition, there are numerous shore excursion activities in each port and these may involve landing on a glacier using a helicopter, historic rail road trips, hiking through glacial waterfalls, enjoying wildlife excursion on-board high speed catamaran, or even racing across glaciers in exhilarating dogsled ride.
Also Read: 8 Reasons To Try A River Cruise
With Alaska cruise holidays, travellers also benefit from the experience offered by the new state of the art ships dubbed "floating cities" due to their award winning features such as libraries, movie theatres, health clubs, casinos, Broadway style entertainment, lounges, and restaurants among others. For travellers who prefer a more low-key, intimate experience, a small ship cruise will reduce on-board distractions and allow travellers to access more remote parts of the state.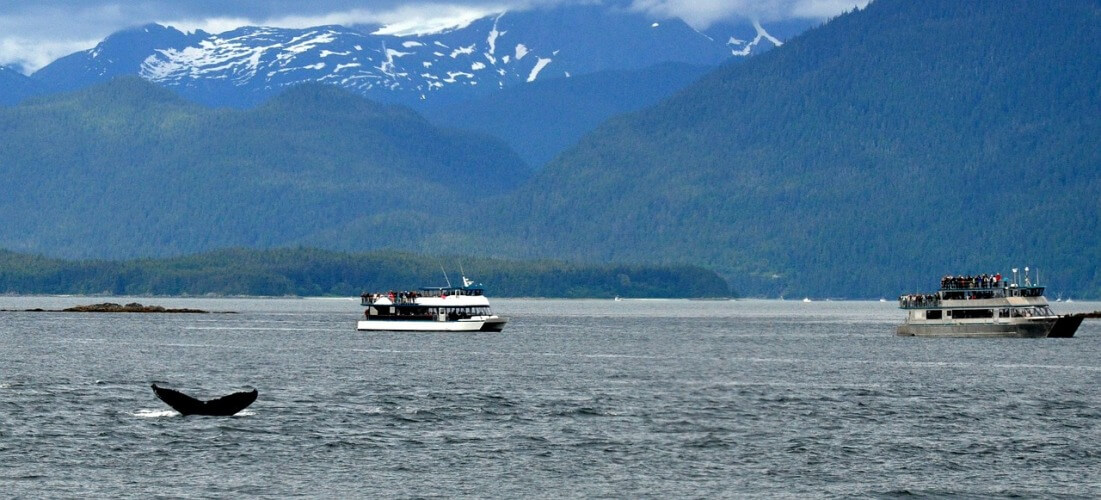 Most Alaska cruise holidays tours have combined sightseeing expenses, entertainment, meals, and transportation into a single affordable cruise package, making the entire vacation experience not only memorable but also cost-effective.
Get in touch with nature
Many Alaska cruises tourists get to experience the rare treat of drinking in the splendour of the Alaskan wilderness while sipping cappuccinos from the comfort of their private veranda. They may also get a chance to watch how the hump back whales break the surf, to watch the eagles soar, and to watch how brown bears feed on spawning Salmon. Travelers also may have the option of visiting the sea lion rookeries, walking in the magical rain forest, and even hunting crabs, halibut and salmon.
Alaska cruises are available for people of all ages and abilities, including those who would like to experience Alaska up close and personal.
Alaska Cruise Holidays Packages
There are various cruise packages in Alaska that will enable tourists to journey into the pristine waters. These cruises come with dazzling sightseeing attractions and opportunities that will enable cruise travellers visit charming Alaska ports hence immersing themselves in flavors and cultures of America's last frontier. These cruise packages may include:
Voyage of the Glacier Cruise
Within this tour the cruise travellers experience sailing between Vancouver B.C and Whittiervia Pristine Prince William Sound and the inside package. The tourists will be accorded the opportunity to view either the Hubbard glacier or College Fjord, and the Glacier Bay National Park. They will also visit frontier ports of Skagway, Juneau, and Ketchikan, not mentioning other activities such as dog sledding and whale watching. It is also possible to combine cruise tours so as to create the ultimate Alaska land and sea tour.
Inside Package Cruise Holidays
This is a roundtrip Alaska cruise that involves Vancouver, San Francisco, and Seattle. Here the cruise travellers have an opportunity to sight see glaciers at Glacier Bay or majestic Tracy Arm Fjord. Here also the tourists have the opportunity to visit frontier ports of Skagway, Juneau, and Ketchikan.
Top Destinations
In addition to sailing through Alaska on cruise tours, it's recommended to spend some time exploring Alaska by land. Some of the key places of interest to visit in an Alaska cruise tour include:
Juneau
Juneau is the capital city of Alaska and a history-rich place due to its gold rush that was present there some 100 years ago. The city was founded in 1880 even though it is still possible to experience the spirit of gold discovery today. The city is nestled at the foot of Mount Juneau making it naturally attractive, especially coupled with the fact that it directly faces the Gastineau Channel which is also home to majestic Medenhall glacier and the magnificent fjords.
Also Read: 6 Best Reasons To Keep A Travel Journal
Hubbard Glacier
The Hubbard Glacier is located in the eastern part of Alaska up into Canada. It has been cited as the longest ice river in North America and among the most active glaciers on earth. It takes about 400 years for ice to travel the length of the glacier.
Related posts